"We will not hide them from their children, showing to the generation to come the praises of the Lord, and his strength, and his wonderful works that he hath done. For he established a testimony in Jacob, and appointed a law in Israel, which he commanded our fathers, that they should make them known to their children: that the generation to come might know them, even the children which should be born; who should arise and declare them to their children: that they might set their hope in God, and not forget the works of God, but keep his commandments." Psalm 78:4-7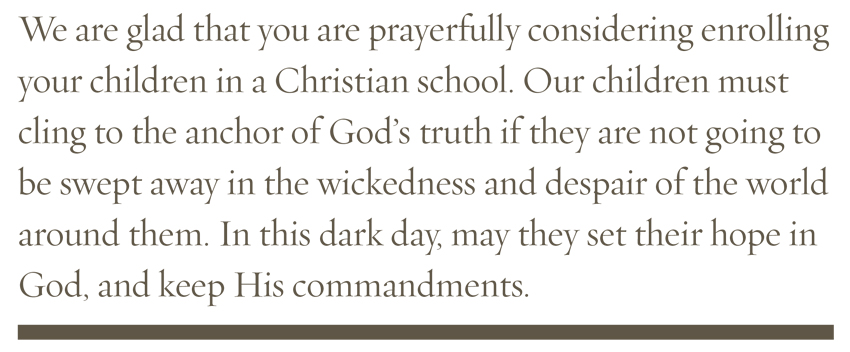 Truly God-honoring Christian schools are more needed than they have ever been. These are schools that see as their purpose the development of the mind of Christ in the life of each student. These are schools which seek to train young people to find Christ and His Word to be all-sufficient for life and eternity.
Today, more than ever before, Christian parents need answers to the questions they have concerning the education of their children.
What Is Christian Education?
"But we have the mind of Christ. I Corinthians 2:16″
It is our earnest prayer that you understand how vital it is for your children to receive a Christian education. It is important that parents fully understand what Christian education really is. What is your reason for choosing a Christian school? Do you fully comprehend what Christian education is all about?
Parents enroll their children in a Christian school for many reasons. Some of them include the academic program, the strong emphasis on discipline, or the relative shelter and safety of such a school. This is not what Christian education is all about. Christian education is the development of the mind of Christ in a child so that he will fully yield his life to be used by the Lord. It goes far beyond the walls of a classroom. It begins in the Christian home and the local Bible-believing church.
---
What Role Do Parents Have in Providing a Christian Education for Their Children?
"Thou shalt teach them diligently unto thy children." Deuteronomy 6:7
Many parents do not understand their own role in providing Christian education for their children. In the Bible, God gave the responsibility of training children to parents (Deuteronomy 6:4-7).
Parents must aggressively take on the responsibility to teach their children the truth of God's Word at every opportunity.
Some parents enroll their children in a Christian school, and yet their homes directly oppose the truths taught in the school. Such inconsistency is hypocrisy on the part of parents and causes children to rebel against the home, the church and the school. You are the key to your child receiving a Christ-honoring education. Your testimony before your children must be an example of a life fully yielded to Jesus Christ.
The inerrant, infallible Word of God is the benchmark that measures and integrates all that a child learns. All truth is God's truth. For this reason, it is paramount that the families of all Christian school students be active members in a fundamental, Bible-believing, Bible-preaching, local church. When the home, the church, and the school together support the child, he has a stable foundation on which to build his life.
---
How Are Parents to Be Involved in Christian Education?
"Train up a child in the way he should go: and when he is old, he will not depart from it. Proverbs 22:6"
Even when a family attends a fundamental, Bible-believing church and the children are enrolled in a Christian school, parents have not done their most important part. Your home ought always to be the most important influence in the life of your child. The Christian school is to assist you in the training of your children, but not to take your place.
Christian education is a multi-faceted commitment. Certainly there is the financial commitment, but your commitment to the Christian school also means that you will pray for the school. Satan's attacks against the school and its students are launched in many ways and from many directions. Please pray for the pastor, the administration, and the faculty and staff daily.
Make a point of praying for your children's teachers and their families specifically.
There is also the commitment of your time. There is always time to do the things that matter to God. You cannot imagine the impact you will have on your child by your attendance at the school's activities. Too soon these days will be forever and irretrievably gone. Taking the time to be at the parent-teacher fellowships, ballgames, and other events also tells everyone involved that Christian education is important to you. You are always welcome!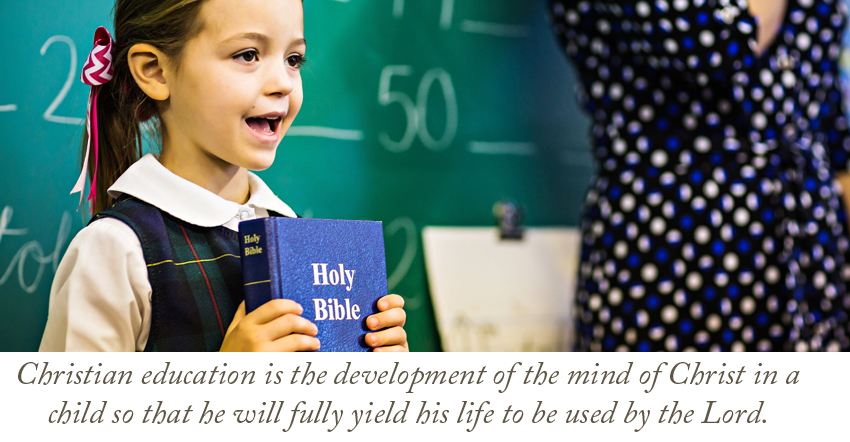 ---
How Much Is a Christian Education Worth?
"Nay; but I will surely buy it of thee at a price: neither will I offer burnt offerings unto the Lord my God of that which doth cost me nothing. II Samuel 24:24"
Do you look at Christian education as an expense or as an investment? Are you willing to do whatever it takes to ground your children in truth and prepare them for both life and eternity? May God lead you to the conviction that you will sacrifice for your children instead of sacrificing your children to an educational system that will rob them of their confidence in God's Word.
As you prayerfully consider Christian education for your children, trust the Lord to meet your financial needs. When you give thought to it, you will find things that you are willing to do without in order to provide a Christ-honoring education for your children.
The Christian school provides a superior education at a fraction of the expense that the public system spends per child. Yet, the tuition paid does not meet all the needs of the school.
Perhaps you have experienced the financial blessings of God upon your life. You might be greatly used of God in helping with the school's financial needs. Any such gifts would be over and above your tithes and offerings which belong in the ministry of your local church. The Lord supplies the needs of His work through the giving of His people.
---
What Part Does Discipline Play in Christian Education?
"And I will walk at liberty: for I seek thy precepts. Psalm 119:45"
Both the school and home must constantly work toward being the mature, godly examples that will motivate our children to walk according to God's Word. Teachers will deal with your child in a setting very different from the one you experience at home. Likewise, the teacher must never forget that the child's behavior at home will often bear no resemblance to his behavior at school. Communication, understanding, and support must exist between the home and school at all times.
Although strong discipline is cited as one of the reasons for parents choosing Christian education, it is our experience that the Christian school should be marked by both discipline and pleasantness.
---
What Should We Do When a Problem Arises?
"Moreover if thy brother shall trespass against thee, go and tell him his fault between thee and him alone: if he shall hear thee, thou hast gained thy brother. Matthew 18:15"
We are thankful to God that our Christian school is considered to be an exceptional one. But it is not perfect. Wherever there are people, conflicts will occur. When this happens, there are always God-honoring ways to resolve them.
In the eighteenth chapter of Matthew, the Lord gave us clear direction for handling disputes. We are to go to the person directly involved and deal with them about the issue. To go to someone outside of the immediate situation is to commit the sin of gossip. It is also important to approach problems with the right attitude. Do not allow yourself to become a pawn of the Devil. If the situation cannot be resolved between the two of you, then the teacher will schedule a meeting with the principal.
At some time, you may find that you are not particularly excited about a teacher your child will have. Realize that the Lord brings people into your child's life that He desires to use in molding his character. No one can raise a child alone. We should not rob him of the benefits of struggle. Instead, we must teach him by our example and instruction to look to the Lord Jesus Christ.
---
What Is the Final Result of Christian Education?
"I have no greater joy than to hear that my children walk in truth. III John 4"
What results do you desire from your child's education? Is it to be recognized and awarded for the highest academic achievement possible? Perhaps you desire for them to excel in athletics or the fine arts. It is important to train our children to be and to give their best, striving to make the most of the abilities and opportunities that God gives them. However, there is something far more important and lasting for them to achieve.
The end result of a truly Christian education is that our children conduct their daily lives in obedience to the Word of God. We are told in Psalm 119:130, "The entrance of thy words giveth light; it giveth understanding unto the simple."
This result is obtainable regardless of a child's innate abilities. It will have a greater effect on the future of your child than any other thing. No other achievement, regardless of what it is, will bring such lasting joy to the heart of a parent.
As parents, you hold your child's future in your hands. The Christian school, as a ministry of a local, Bible-believing church, supports the Christian home and will provide an education that will not betray you or your child.